Welcome to
Jackson Preparatory & Early College
JPEC Calendar

NWEA Testing

Calendar:

College Prep Calendar

Coffee & Conversation

Calendar:

JPEC District Calendar

NO SCHOOL

Calendar:

JPEC District Calendar

JACC 10th Grade Tour

Time:

11:45 AM to 1:45 PM

Calendar:

JPEC District Calendar

Our EC 2 (10th Graders) will be taking a tour at the Jackson Area Career Center. JPEC staff will be walking them over.

WI Community Forum

Location:

Jackson District Library - Carnegie Library, 244 W Michigan Ave, Jackson, MI 49201, USA

Calendar:

JPEC District Calendar

Count Day!

Calendar:

JPEC District Calendar

Coffee & Conversation

Calendar:

JPEC District Calendar
Calendar

‹

January

2020

›

S
M
T
W
T
F
S
1

Jan 1

NO SCHOOL

Calendar:

JPEC District Calendar

2

Jan 2

NO SCHOOL

Calendar:

JPEC District Calendar

3

Jan 3

NO SCHOOL

Calendar:

JPEC District Calendar

4

Jan 4

NO SCHOOL

Calendar:

JPEC District Calendar

5

Jan 5

NO SCHOOL

Calendar:

JPEC District Calendar

6

Jan 6

NO SCHOOL

Calendar:

JPEC District Calendar

7

Jan 7

NO SCHOOL

Calendar:

JPEC District Calendar

8

Jan 8

NO SCHOOL

Calendar:

JPEC District Calendar

Progress Reports Sent

Calendar:

JPEC District Calendar

9

Jan 9

NO SCHOOL

Calendar:

JPEC District Calendar

10

Jan 10

NO SCHOOL

Calendar:

JPEC District Calendar

11
12
13

Jan 13

Term 2 Begins

Calendar:

JPEC District Calendar

14
15
16

Jan 16

4:15 PM to 5:00 PM

Meet with Malmquist

Calendar:

JPEC District Calendar

17
18
19
20

Jan 20

NO SCHOOL

Calendar:

JPEC District Calendar

21
22
23
24
25
26
27
28
29
30

Jan 30

8:00 AM to 8:45 AM

Coffee & Conversation

Calendar:

JPEC District Calendar

31

Jan 31

NO SCHOOL

Calendar:

JPEC District Calendar
Annual Reports

2017-18 District AER Cover Letter

Get your official JPEC Falcons Gear!
Check out the Falcon's Broadcasting Network!
---
JPEC News - Archives

Back to News
November 18, 2019
CP Robotics Team WINS Regional Competition!!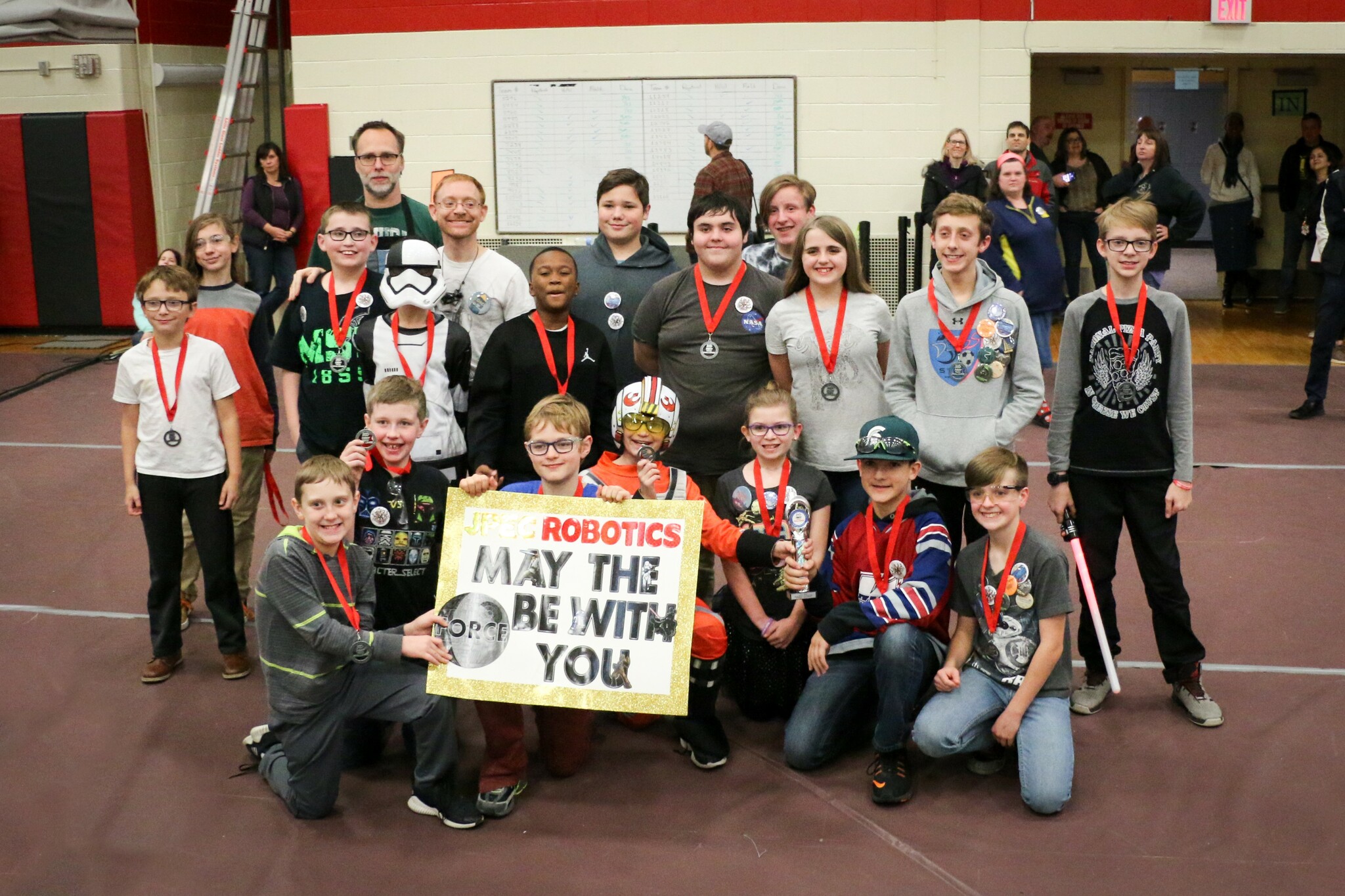 October 15, 2019
Update on State Funding
** SPECIAL NOTE FROM THE BOARD CHAIRMAN AND JPEC PRESIDENT: STATE FUNDING**
Good Evening Parents & Guardians of our Falcons,
I am writing to share with you a recent line item veto that affects our students directly. Governor Gretchen Whitmer has vetoed specific line items from the approved budget. One of these line items was the $240 per pupil increase for Charter School students. As it stands, there will be no increase in our foundational allowance for our Falcons. While this may seem like a small amount, it adds up to a loss of $86,000 for our school. We do a lot with our current per pupil allotment that already lags behind public schools. Our school, as you know, is a public school but the current administration doesn't view us that way. We are not asking just for more money, we are asking for educational funding equity and fair treatment of our Falcons.
Several Charter School organizations are taking action to advocate for our students: Michigan Association of Public School Academies (MAPSA), the National Charter Schools Institute (NCSI), and the Michigan Council of Charter School Authorizers. They need our support. Please take the time to Take Action and let your legislators know that our children are not political pawns and deserve fair and equal treatment in state funding. Please see MAPSA's action center by using the link below and take the time to stand up for our Falcons.
Sincerely,
Jonathan Williams | Board Chairman
Shane Malmquist | President
Jackson Preparatory in Action
After hours in an emergency, call Security at 517.796.7620