Welcome to
Jackson Preparatory & Early College
JPEC Calendar

Board Meeting

Dec 17

5:30 PM to 7:30 PM

JPEC District Calendar

Course Finals

Dec 17 - Dec 20

JPEC District Calendar

Early Release 3:30 PM

Dec 19

JPEC District Calendar

No School

Dec 21

JPEC District Calendar

Christmas Break

Dec 24 - Dec 28

JPEC District Calendar

No School

Dec 24 - Dec 28

JPEC District Calendar

Christmas Break

Dec 31 - Jan 4

JPEC District Calendar
Calendar

‹

December

2018

›

S
M
T
W
T
F
S
1
2
3
4
5

Dec 5

Early Release 3:30 PM

JPEC District Calendar

6
7
8
9
10

Dec 10

9:00 AM to 10:00 AM

Finance Committee Meeting

JPEC District Calendar

11
12

Dec 12

Early Release 3:30 PM

JPEC District Calendar

13

Dec 13

Christmas Concert

JPEC District Calendar

14
15
16
17

Dec 17

Course Finals

JPEC District Calendar

5:30 PM to 7:30 PM

Board Meeting

JPEC District Calendar

18

Dec 18

Course Finals

JPEC District Calendar

19

Dec 19

Course Finals

JPEC District Calendar

Early Release 3:30 PM

JPEC District Calendar

20

Dec 20

Course Finals

JPEC District Calendar

21

Dec 21

No School

JPEC District Calendar

22
23
24

Dec 24

Christmas Break

JPEC District Calendar

No School

JPEC District Calendar

25

Dec 25

Christmas Break

JPEC District Calendar

No School

JPEC District Calendar

26

Dec 26

Christmas Break

JPEC District Calendar

No School

JPEC District Calendar

27

Dec 27

Christmas Break

JPEC District Calendar

No School

JPEC District Calendar

28

Dec 28

Christmas Break

JPEC District Calendar

No School

JPEC District Calendar

29
30
31

Dec 31

Christmas Break

JPEC District Calendar

No School

JPEC District Calendar
Get your official JPEC Falcons Gear!
---
CP uniforms from FrenchToast!
select "Shop by School"
code: QS5BYWE
---

Check out what's happening at JPEC weekly!
Donate to the Falcon Broadcasting and Falcon Freepress by clicking the link:
JPEC News

View Archives
December 10, 2018
On-line Spirit Store!
New Spirit Store!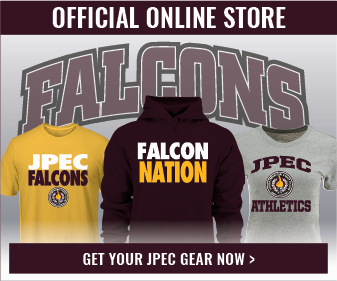 10/20/2018
2019 Graduation Application
Submit your 2019 Graduation Application here!
Jackson Preparatory in Action