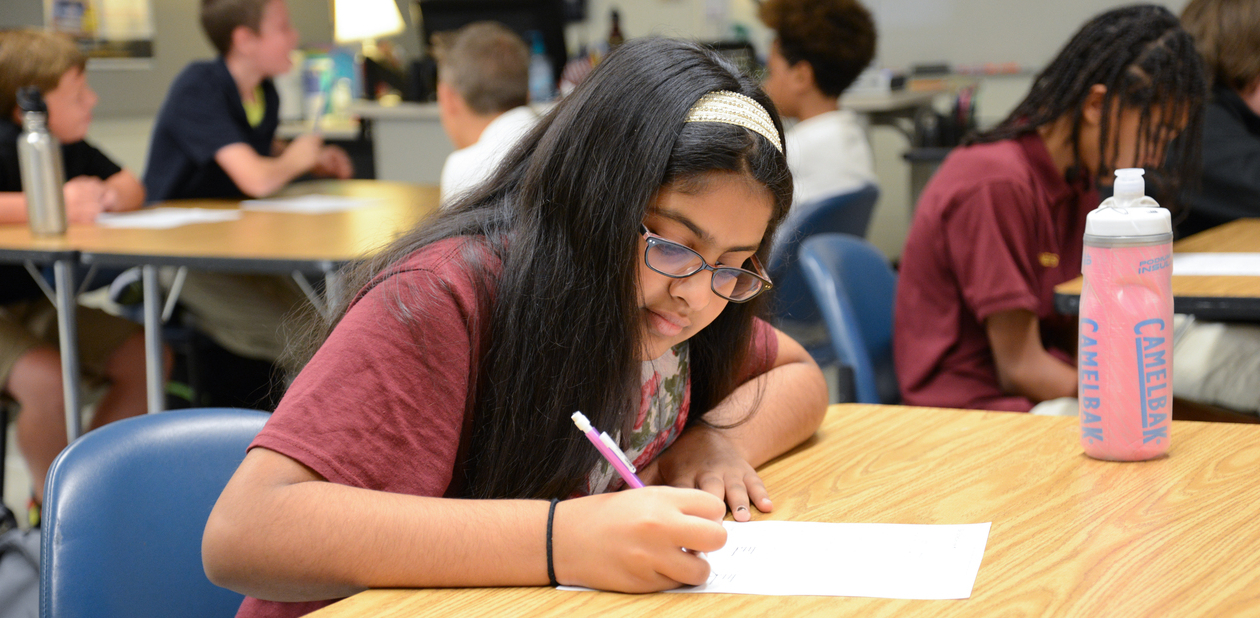 Academics
Jackson Preparatory & Early College presents students with a rigorous curriculum. Classroom learning experiences are led by highly qualified teachers who utilize educational technology in an 1:1 learning environment where every student is provided with a device. The district curriculum helps students reach collegiate academic standards and is the only educational program designed from 6th grade all the way through college. JPEC challenges students to ask questions, construct new knowledge, confront assumptions, take learning risks, and develop self-awareness through schoolwide academic practices in order to help students develop the skills needed in life. JPEC has been the highest-scoring district in the county on the SAT for the past two years, despite only being five-years-old
---
UNIQUE
JPEC is the only dedicated Early College school in the state with a fully-fledged middle school and an athletics program. Our flexibility and dedication to individual student needs allows those who are advanced to move faster than the standard course pace and does not punish students who take a bit longer to learn than the norm. JPEC has partnerships with the Jackson Area Career Center for individuals interested in career and technical education, as well as collegiate partnerships beyond Jackson College, such as our unique partnership with Albion College, which allows students to pursue Bachelor's Degrees at no additional cost while attending JPEC.
---
Tuition-Free
Jackson Preparatory & Early College is a FREE, non-profit, public charter, college preparatory middle school and early college high school.
---
MASTERY/COMPETENCY BASED LEARNING
What good is knowledge if you don't know how to apply it? Traditionally, schools have asked students what they know, and that's been good enough for passing grades. JPEC believes that the modern world requires students to be able to demonstrate their skills. JPEC classes are based on set lists of competencies, or skills, and a student has not completed a course until they can independently demonstrate at least 80% of the course competencies. Some competencies, such as Communication or Reasoning & Logic, are so universal they are considered Essential Academic Practices, and they are practiced and assessed across the entire curriculum, no matter if the student is in math or English.
---
JPEC Alumni
JPEC students have benefited not only by having two-years of free college, but also by having their challenging course loads recognized by admitting colleges. JPEC students have been admitted to and attend the University of Michigan, Michigan State University, Princeton University, University of Rochester, Albion College, University of Nebraska, Kettering University, Wayne State University, Northern Michigan University, and Siena Heights University, among others. Students who have gone through the Career Center while at JPEC have been hired locally in industry, hospitality, and health fields, straight out of high school, without any college debt. JPEC is here to help you reach your goals.
---
later start time
Following Best Practices outlined by the National Education Association (NEA), JPEC's school day begins at 9:00 AM and ends at 4:00 PM. Our doors open at 8:00 AM for early drop off and close at 4:30 PM.
---
Student Activities
All students are encouraged to participate in after school activities, student organizations and athletic programs that JPEC offers.